It's coquito season! Don't know what coquito is? Some folks call it Puerto Rican eggnog, but it has neither egg nor nog in it! It's an absolutely delicious holiday drink! There are a million different recipes, but they all include some core basics. Here's what you're going to want to get:
3 cups rum
2 – 15oz cans Cream of Coconut
2 – 14 oz cans sweetened condensed milk
2 – 13.5 oz cans coconut milk
8 oz evaporated milk
1 tsp nutmeg
1tsp cinnamon
1tsp vanilla extract
A few notes from me:
For the rum: I use 2 cups Captain Morgan spiced rum and 1 cup Cruzan coconut rum. I highly recommend this combination.
Cream of Coconut is NOT the same as coconut milk! DO NOT try to substitute something else for Cream of Coconut. I recommend the Coco Lopez brand. You can usually find it with the drink mixers in the grocery store.
For the vanilla extract, I recommend using pure vanilla extract rather than imitation. Imitation vanilla comes from beaver butt glands. It's true…see, you can read about it!
For the other ingredients, any brand, even store brand, is okay! Remember…we're still mad a Goya and not buying their stuff!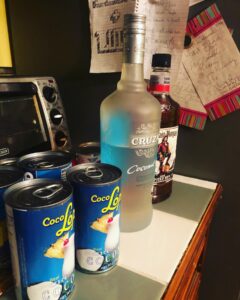 Ok…now it gets complicated!
Put everything except the rum in a large bowl and use an immersion blender (or put it all in a blender and blend) until it's all pureed together. Taste the rum to make sure it's good. If it passes inspection (you might need to taste it twice to be sure), add the rum to the pureed mixture.
You made coquito! Put your coquito into glass jars and chill for at least 4 hours before drinking. This will last up to a month in the refrigerator. Enjoy coquito seaon!